Yo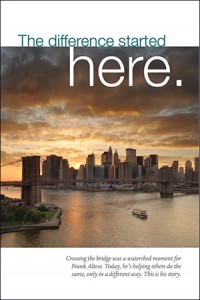 ur Hobbs/Herder "Printed" Personal Brochure is always your go to marketing piece. But sometimes, you need to send a digital brochure. Read on:
At Hobbs/Herder, we've always viewed the personal brochure as the centerpiece of the entire branding campaign. It is the single most impactful marketing piece you can have. It gives people a chance to learn more about you before they meet you. It makes them feel good about who you are as a person, and as a result, feel more comfortable putting their trust in you as a real estate professional.
Nothing will ever beat having a high-quality printed brochure to hand out to prospective clients or mail out with your farming campaign. However, today is a digital age and there are times where it makes sense to have a digital version of the brochure you can share through email, smartphones or social media platforms.
When it comes to having a "digital brochure," we are not just talking about having a screen-quality PDF of your normal brochure. That is certainly an okay solution, but it doesn't quite have the same impact because it's not folded up and like a real brochure. It's just two flattened sides. We are now converting print brochures into digital versions that are optimized and formatted specifically for multimedia use. (Click on the image to the left to see an example)
A digital brochure is reformatted so that the key theme, imagery, content and graphics are presented in a natural order on an easy-to-view PDF file. It is also interactive in the sense that website URLs can be active links that someone can click on. Likewise, the social media icons can take them straight to your Facebook, Twitter, LinkedIn or YouTube pages. In today's "I need it now" world, this provides immediate gratification.
Our client, Frank Altese from Ridgefield, CT, had us convert his brochure into a digital format. He deals with many buyers, sellers and investors who live in Manhattan. Frank's digital brochure is often utilized when prospecting and building relationships with potential clients, even though they are located an hour-and-a-half away from where he works. It's a great complement to his online presence in a market where direct mail farming isn't as cost effective for him.
You should always try to get a printed copy of your brochure in a prospective client's hands, but there are times when you can utilize a digital brochure for quicker delivery and engagement. Perhaps the person you are dealing with is located in a different town, state or even country. Perhaps they are just a really tech-savvy millennial who you can tell will react better to a digital presentation. Perhaps they just need more information about you right at that moment. There are plenty of opportunities to send your brochure digitally in place of, or most likely, in addition to a printed copy.
Was this article helpful? To learn more about digital brochures, contact Aleks Bugarski at 657-235-3629. Or fill out this convenient form and you'll be contacted.
---